---
Lake Nasser where massive Nile Perch, giant Vundu catfish and Tiger fish provide some of the best fresh water fishing in the world
Egyptians have been fishing for Nile perch since the dawn of civilization so why not come and try your luck as well, targeting one of the largest fresh water fish in the world, the legendary Nile perch? Tiger fish, which grow to 16lbs, are also plentiful; one look at their vicious teeth leaves you in no doubt they are savage predators which, for sheer sport on light tackle, take a lot of beating. There are also 18 species of Catfish in the lake, two huge species Vundu and Bagrus are worth your attention, if you hook a big 'cat' it will give you an unforgettably tough fight.
Our special offers and gap fillers are great value so, 'hook up' with your fishing buddy and take advantage of this opportunity.

Winter 2014 Incentive – Complementary Tackle
If you book any safari for travel between 30th September 2014 up to and including the safari starting on 25th November 2014 we will provide you with a full set of specialized Lake Nasser fishing tackle, rods, reels, lures and terminal tackle if you confirm by paying a deposit within two weeks of making your booking.
This offer excludes any safari already discounted in the offers shown below.
For details please contact This e-mail address is being protected from spambots. You need JavaScript enabled to view it

¸¸.´¯`.¸.>< ((((((º> Discounts
These discounts only apply to the lake safari section of the itinerary for both Nile Perch Fishing and Lake Nasser Boat Safaris. They do not apply to hotels, mainland sightseeing, day trips or our Arrival & Departure Package.
Father and Son (or Daughter)
This is a popular special offer aimed at helping Dad to take his son or daughter on an incredible adventure they will not forget for a long time. The father and son (or daughter) discount applies to both our Lake Nasser fishing & the Nubian Safari (Private Safari). To qualify for a discount the child's lower age limit is 10 years and the upper limit is 21. If the son (or Daughter) is the second person in the boat they get a 10% discount from the price of the safari while the father pays the full amount under the price band for 2 anglers sharing a fishing boat. If two children are joining their father in the same boat then the father pays the full amount under the price band for 3 anglers sharing a fishing boat and each child gets a 10% discount from the same price band.
Family
The best way for families to enjoy a fishing safari is to use the house boat and fishing boat combination. The family can enjoy the safari experience while the father goes fishing in the stealth boat. Adults pay the full amount under the price band of the number of family members and the children get a 10% discount off the same price band.
Organizer
If you have a group of friends who would like to come on safari with you take advantage of our 'organizer' discounts. These discounts do not apply to families' who are already claiming a family discount.
If a group of six or more full paying people book a safari together we will be pleased to offer a 20% discount to the sixth person who is organizing the booking.

Four Sharing one Fishing Boat
If you don't mind being a bit crowded with your accommodation this system is the most cost effective and is also a great fishing arrangement. Because of the method of trolling on the lake, it is difficult for four anglers to troll effectively from one fishing boat without serious line tangles. When four anglers share one fishing boat we also include a stealth boat plus an extra fishing guide as the second fishing platform; two anglers fishing from each boat is the ideal fishing combination!
Great value £525 - €620 or US$850 per person for 6 days fishing
This offer applies to our Lake Nasser Safari Click to follow link.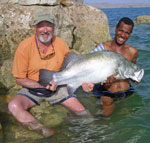 We look forward to welcoming you to Lake Nasser.
"Another interesting experience is shore fishing… Where else, for instance, can you work artificial lures from the shore anywhere in the world, either in fresh or salt water, and encounter fish in the 20lb to 100lb category. Nasser is quite unique in this kind of experience, believe me!"
John Wilson MBE England's best known angling writer and TV personality